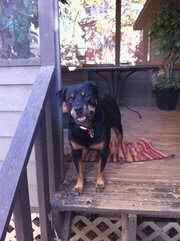 This is Mischief. She is 10 years old. Her lifelong family decided to move to an apartment that wouldn't allow her. A friend and co-worker of mine took her in because she was due for Animal Control otherwise, but the friend already has her hands full with three pitties of her own and two fosters that she picked up and is trying to place.
She is great with people and other animals and is housebroken but prefers to be outdoors. She would do best with a fenced in yard.
You can contact me if anyone is interested and I'll pass the info along.
Erica
770-235-8902
erica.seward@gmail.com