so, a friend's friend got in touch w/ me on facebook about her dog needing to be rehomed... it's a very sad situation & feel horrible for all involved.
they rescued the dog a lil over a yr ago from rescue called.. almost home(no clue, still need to look them up), his name is levon & is now about 3.5yrs old.. she's not sure if he's pit or lab x w/ the corso. he looks pit to me. he weighs about 84lbs, good w/ other dogs.. her sisters have a presa(
) & cockapoo. not sure about cats, the foster said yes, but personally she wouldn't know.
here's the situation.. he bit her 5yr old daughter & she needed stitches. there has been signs of aggression in the past too just with her one daughter--she has 2 other older children. evidently, the dog will lick her face, but as soon as she gets in the dog's face he snaps... now, he's fine w/ everyone else in the house kissing him in the face ect..
i was told she worked w/ a trainer.. on both the dog & child... having the child be the only one to feed/treats ect.. but the lil girl just doesn't listen & is feerless accourding to the mom & refuses to stay out of levon's face.
i asked about the rescue taking him back.. she said the lady has no room, she even said she'd see if there was another dog more compatible w/ her family she's adopt it to levon could go back, she said no.. if you have to put him down, just make sure it's at your vet's so he's more relaxed...wtf!? this what she doesn't want!!!
i spoke with her, she's really heartbroken for her dog. she has them seperated now.. while one is in the playroom, the other is upstairs on the 1st floor living area(she doesn't crate him). i'm pretty good at telling when someone is pulling my leg, but she is really in pain over this whole thing... mainly for her dog. it's effecting her children too, they are sad & now their friends aren't allowed in their home till the dog is gone. she runs w/ him like 5 miles a day, walks 3 times... & now she kinda gets bullied from the adults yelling she's crazy for still keeping that beast, her one neighbor said he'd take it out back & shoot it... she doesn't let him out to potty alone needless to say.
she said she's been really trying to place him, but as soon as she says he's bitten her daughter & she needed stitches people refuse. she kinda blames herself for getting an older dog w/ young children & getting the breed she did, before levon, she only had 2 beagles. but she said she did research the corso & knowledge from her sister who owns the presa.
i know no one who is looking, but certainly know no one or trust anyone capable of handling a dog like this... issues plus breed. i told her, with her permission of course, i belong to a wonderful forum w/ a beyond imaginable love for dogs, especialy big & bully breeds, i would be more than happy to post on here levon's desperate need for a new forever home.. ASAP!
here a few pics...
with the owner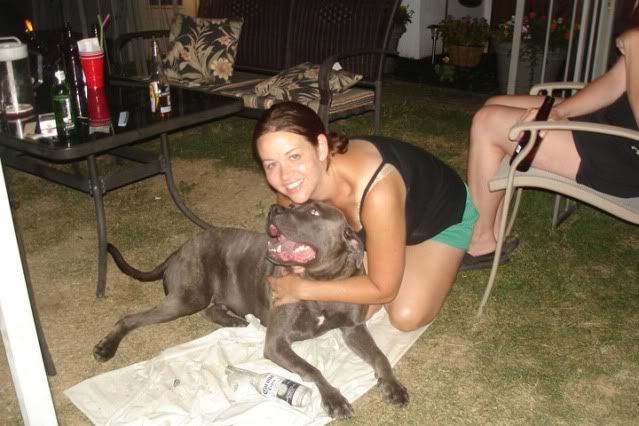 one of her daughters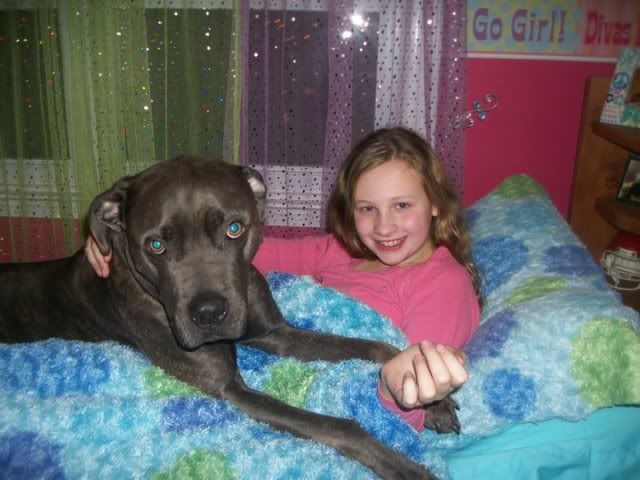 the 5 yr old